Willis Ridge Cabins
Willis Ridge Cabins

18856 California Hollow Road

Laurelville, Ohio 43135

Phone: 937-206-1849

Web Site:

www.willisridgecabins.com

Property Overview

The Willis Ridge Cabin is a beautiful one bedroom cabin tucked away in the thick forests of Hocking Hills.Our cabin has all modern amenities,Large Deck/hot tub,and plenty of space to lounge and relax.


Category: Hocking Hills Cabins
Accommodations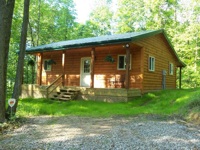 Willis Ridge Cabin
- The Willis Ridge Cabin is a beautiful one bedroom cabin tucked away in the thick forests of Hocking Hills.Our cabin is fully equipped modern with all amenities,Large Deck with hot tub, and plenty of space to lounge and relax.
Maximum Occupancy: 4
Featured Amenites
(The most commonly requested Hocking Hills amenities are listed in bold)
•

Hot Tub


• Gas Log Fireplace
• DVD Player
•

Fire Ring


•

Air Conditioning



• 1 Bedroom
•

Queen Bed


• Sofabed / Foldaway
• Shower Only
• 1 Bath
• Charcoal Grill

•

No Smoking Inside


• Television
• Stereo System
• Board Games
• Movies

Visitor Reviews
Rating

5 out of 5

FANTASTIC GET-AWAY!!!

Review Posted:

Nov 8

Date of Visit:

January

We went to the cabin for a weekend birthday celebration and were blown away by the experience. The first night we took our wine out to the hot tub and no sooner settled in when it started to snow. The tub was under cover but the lighting out into the wooded site made it absolutely beautiful and romantic. The facilities were clean and well appointed. We took dvds to watch on the comfy couch, and the kitchen had everything we needed to cook some amazing meals. This cabin is highly recommended!
Rating

5 out of 5

Willis Ridge

Review Posted:

Oct 30

Date of Visit:

January

Had an outstanding stay at the cabin. Needed a few days of rest from a very stressful time and staying there was just the ticket. A super place to get away for a short time. mike
Reviews are the subjective opinions of Hocking Hills visitors and not of HockingHills.com
Web Site:
www.willisridgecabins.com