Cut Above Cabins
Cut Above Cabins

Logan, Ohio 43138

Phone: 877-839-9983

Web Site:

www.cutabovecabins.com

Property Overview

Situated on a quiet winding road, Cut Above Cabins offers upscale amenities in a rustic wooded setting. Our 6-bedroom Summit Lodge, 6 bedroom Big Pine Lodge and 3-bedroom Frontier Cabin offer free WiFi and phone, well-appointed kitchen, two living areas with flat panel TVs, large hot tub, rec room with games, and two large decks. You'll also find little touches to make your stay pleasant.

Category: Hocking Hills Cabins
Accommodations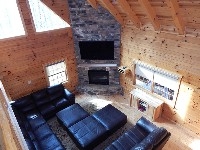 Big Pine Lodge
- The Big Pine Lodge, FREE FIREWOOD boasting 6 bedrooms and 4 bathrooms, is a locally-crafted log home set in the heart of the Hocking Hills, just 5 minutes from leading attractions. The Big Pine Lodge is on a wooded hillside lot.
Maximum Occupancy: 25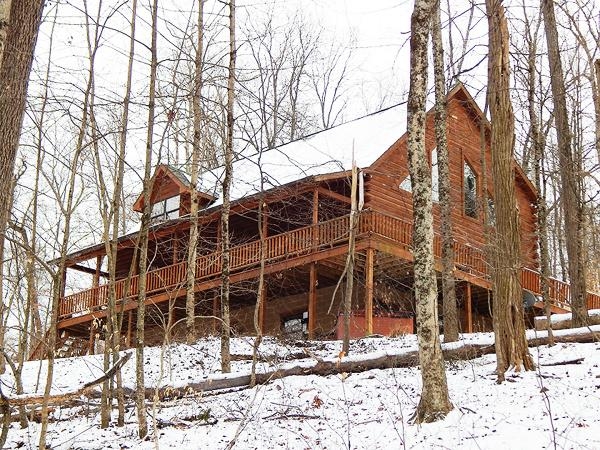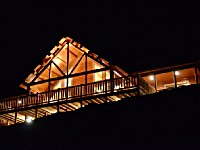 Summit Lodge
- This 6-bedroom, 4-bath luxury lodge sleeps 18 and is perfect for large families and groups. Situated on a secluded wooded hillside, the lodge has ample space to spread out including a master suite, gourmet kitchen, great room, rec room, and two decks.
Maximum Occupancy: 20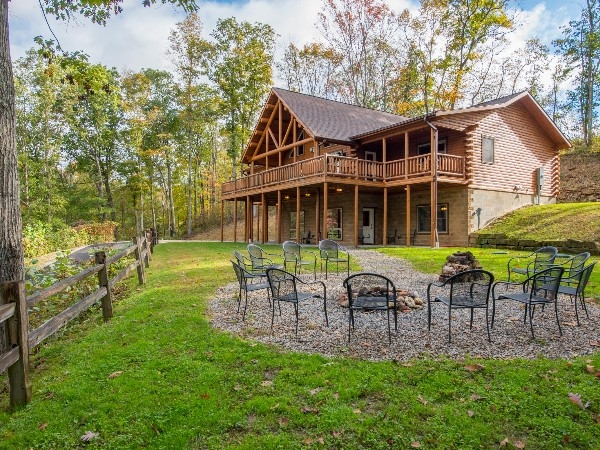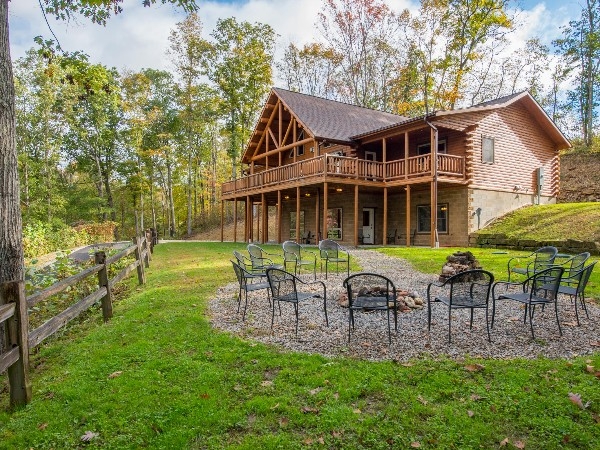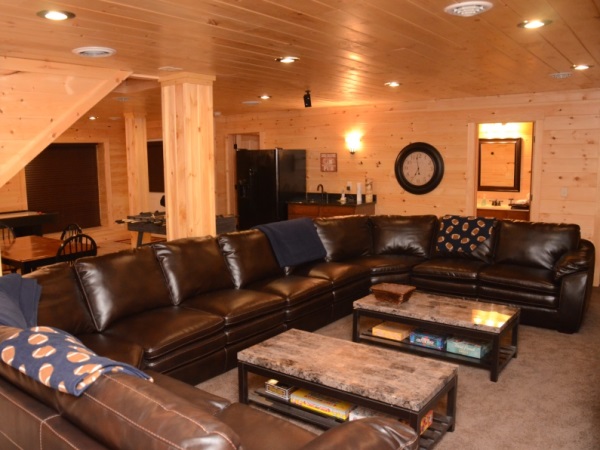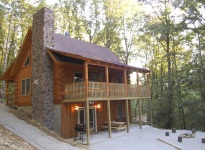 Frontier Cabin
- This 3-bedroom, 3-bath luxury cabin sleeps 8 and is perfect for families, groups, and couples. Situated on a secluded wooded hillside, the cabin has ample space to spread out including a master suite, gourmet kitchen, great room, rec room, and two decks.
Maximum Occupancy: 8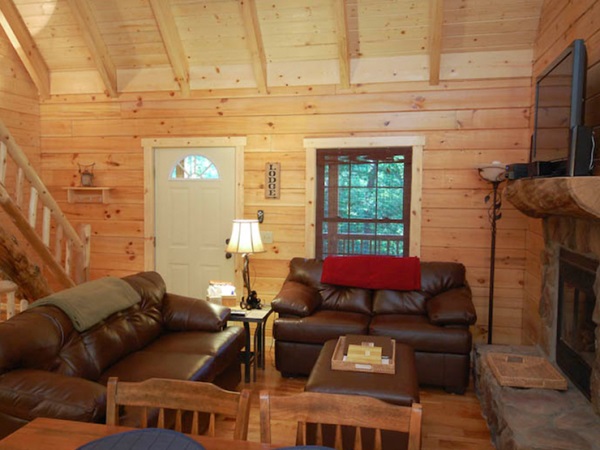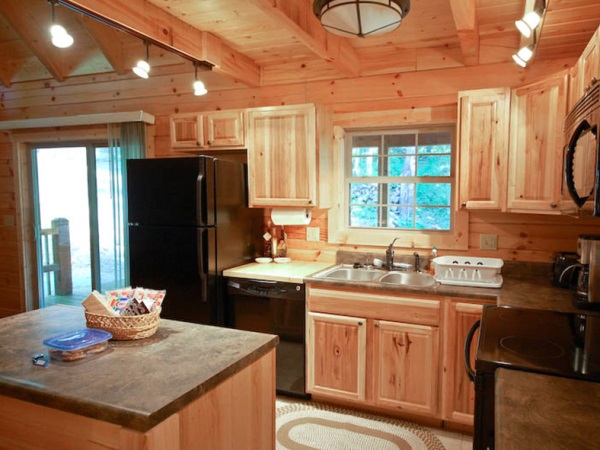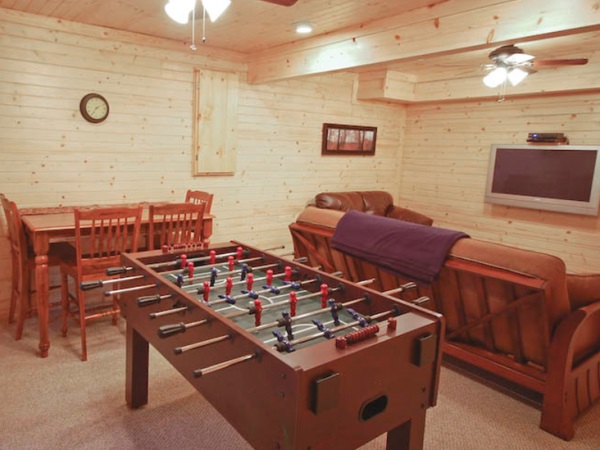 Combined Featured Amenites
(The most commonly requested Hocking Hills amenities are listed in bold)
•

Hot Tub


•

Firewood Provided


•

Wood Burning Fireplace


• Gas Log Fireplace
•

Big Screen TV


• Cable Television
• Satelite Television
• DVD Player
•

Fire Ring


•

Air Conditioning


• Pool Table
• High Speed Internet Access

• 3 Bedrooms
• 5+ Bedrooms
• Full Bed
•

King Bed


•

Queen Bed


• Bunk Bed
• Futon
• Sofabed / Foldaway
• 3+ Baths
• 4+ Baths
• Gas Grill

•

Suited for Children


•

Handicapped Accessible


• Laundry Facility
• Iron / Ironing Board
•

No Smoking Inside


• Telephone
• Television
• Stereo System
• VCR Player
• Foosball Table
• Board Games
• Movies
• Air Hockey
•

Game Room



Visitor Reviews
Rating

5 out of 5

Rustic and modern - Frontier Cabin

Review Posted:

Jun 8

Date of Visit:

June

In researching cabins, Cut Above Cabins had the best website: informative, vivid and well-lit pictures, clean and legible site layout. I wanted a comfortable and clean place to stay for my mom's birthday week, initially for my mom, sister, and me. Based on the site and the price, I booked our getaway. Unfortunately, my sister could not come so I had to quickly make new arrangements for four people (two couples) and the owners were responsive and accommodating to the change. By the time we arrived, my mom wasn't sure what to expect and brought way too many things!! :-) She was pleasantly surprised by how clean and neat the cabin was. Housekeeping did a phenomenal job. It was as if we were using the space for the first time, with no trace of previous guests. We were all impressed with the appliances, tools, utensils, and paper products available to us--everything the website described was true. That made us feel super comfortable away from home, so we could concentrate on our next adventure rather than worrying about the basics. It was so convenient to have dishes and a dishwasher--simple and necessary. Even if you don't ever leave and explore the area, you'll have a cozy cabin to relax with your friends and family. I especially loved that every floor had a separate bedroom and full bathroom, so each couple had their own space. I'm sad that our week went fast and will miss sitting on the front porch, upstairs. Early morning, we could have a hot cup of coffee, grab a blanket, and watch the deer traipse around the property. Needless to say, I'll be recommending this cabin to anyone and everyone if they stay in the Hocking Hills area, especially for group travels. Their directions were easy to follow and the location is not that far from dining or a grocery store. If we ever have larger family gatherings, I'm definitely booking a stay at the Summit cabin. Can't wait!
Rating

5 out of 5

Super Vacation Resort

Review Posted:

Jun 6

Date of Visit:

May

We were pleased with the accomodations at Cut Above Cabins. They think of the little things that make the stay very enjoyable and easy on Mom! Well built, very clean, everything in working order. Everyone from booking, to maintenance were so helpful and very willing to make our stay excellent. Would recommend to anyone who is looking for a place in Hocking Hills
Rating

5 out of 5

Love, LOVE Frontier Cabin

Carl and Geri,

Fort Wayne, IN

Review Posted:

Mar 31

Date of Visit:

March

My husband and I and two grand kids recently stayed for three days at the Cut Above Frontier Cabin for Spring Break. The kids love the fact that they each had their own room and bath - on separate floors of the beautiful cabin. The cabin has everything you can think of to make your stay enjoyable. Cleanest cabin we ever stayed in. The stores and sights are very handy, and the serenity of the cabin is so peaceful and beautiful. You can't help but relax! We used to drive to Gatlinburg, TN to stay in expensive, but average cabins for vacations. Now we come to "Cut Above" in Hocking Hills. Nearby, Old Man's Cave, Ash Cave and Cedar Falls are absolutely awesome and worth the short hike to see. We spent lots of time in the hot tub and around the camp fire. We will be back as soon, since our family refuses to go anywhere else for vacations! Love that cabin!! You will NOT be disappointed in your stay!
Rating

5 out of 5

Lives up to its name

jodybikes,

Columbus, Ohio

Review Posted:

Jan 27

Date of Visit:

January

Our group of women has been visiting Hocking Hills for 10 years and it's our first time with A Cut Above and we will be back! The Frontier Cabin worked well for us with the extra touches of special gathering areas both inside and out. The hot tub was better than most in size and features and having a built in radio was a plus. Having the gas powered fireplace meant we could have a fire in a jiffy and we appreciated that on this beautiful snowy day. We are so glad we discovered "A Cut Above" cabins.
Rating

5 out of 5

Wonderful!

Review Posted:

Sep 9

Date of Visit:

January

Our family stayed at the Frontier Cabin the beginning of September, and it was wonderful! The cabin is beautiful, spacious, and incredibly clean. We have a small child, so the added touches such as baby gates, were very much appreciated. The kitchen was very well stocked with everything you could think of for cooking. The internet connection was great, as well as the satellite TV, and the hot tub was amazing! The location is perfect because it is close to all of the attractions; which is great when you have children. We definitely plan on coming back, and look forward to trying out the Summit Lodge as well. The area and scenery are quiet and just wonderful! I highly recommend a stay here.
Rating

5 out of 5

Beautiful Retreat!

Review Posted:

Sep 2

Date of Visit:

August

A small group of good friends and family stayed at the Frontier Cabin over the Labor Day holiday, and we couldn't have been more pleased. The cabin is gorgeous, secluded, and well-maintained. The amenities such as wi-fi, large hot-tub, satellite TV, and fully-stocked kitchen were much appreciated. In addition, the owners were very accommodating for specific needs we had during our stay. Cabin is located close to attractions and grocery store, while still being secluded enough to enjoy a true 'retreat'. We will definitely consider returning in the future.
Rating

4 out of 5

Top quality, spacious lodge rental!

Review Posted:

May 25

Date of Visit:

May

I was looking for a large rental in the Hocking Hills area for a weekend gathering of twelve friends. I finally decided on Cut Above Cabins Summit Lodge and it was a great choice! The lodge is brand new and you can tell that the owners put a lot of thought and time into the creation of the space. Everyone was super impressed. Plus, we didn't really visit the area to explore the outside attractions (though they are wonderful). We mostly wanted a lodge to catch up and have a good time. With a huge floor plan, plenty of beds, a fire pit, numerous big-screen TVs, a massive hot tub and great grill, we were quite happy. I would recommend this lodge and plan to rent again in the near future. Plus, the owner was extremely pleasant to talk to. Many thanks!
Rating

4 out of 5

One of the best places in HH!

Review Posted:

May 10

Date of Visit:

January

We have staid at many places in HH over the years - Summit Lodge is in the top 2 places for us after our first stay there. Love the location in the heart of Hocking Hills being close to everything we wanted to do. The lodge has everything including the largest hot tub we've seen. The furnishings are upscale and still comfortable. Everyone had their own space inside. Never heard a creaky board at all - solid construction. Enjoyed working with the people at Cut Above too!
Rating

4 out of 5

Magnificent, breath-taking!

Review Posted:

Apr 17

Date of Visit:

March

Superior communication w/staff, contemporary & unique with such high quality floors, TV's and all appliances! Took four teenagers and they all are begging to return (no internet problems)! Close proximity to cave,trails and atv's!!! If you don't stay at summit, YOU are missing out!!! We will never choose anywhere else at hocking hills, the summit was more than expected & we are very particular w/high expectations of cleanliness-simply perfect!
Rating

5 out of 5

Luxurious Serenity in Hocking Hills

Review Posted:

Apr 16

Date of Visit:

April

Frontier Cabin is an outstanding rental in Hocking Hills. Clean as a whistle, charming architecture with modern conveniences in perfect working order. The setting is lovely - we arrived in 80 degree early Spring weather & left 2 days later in light snow!! It was magic! This property is spotless & has excellent access to HHS State Park sights.
Rating

5 out of 5

Great Stay!

Review Posted:

Apr 9

Date of Visit:

March

My family recently stayed in the Frontier Cabin as well as the Summit Lodge. Both rentals were in great shape and they will be without a doubt our go-to properties for future rentals. While living secluded in the woods, my family still enjoys our daily electronics and internet media. Both locations had good internet service which allowed us to rent and stream movies with no issues at all! I have stayed at other cabins in HH which claimed to have high speed internet access and they were always a let down so this was a nice surprise. Also the Summit Lodge is very large so wireless coverage was something I was concerned about but it was not an issue at all as wireless signal was strong in all areas! Both rentals were exactly as described on the website and we had everything we needed for our stay. Up to, during, and after our stay communication was top notch with the rental team. I also received a survey about our experience which was a first for any cabin I have rented. I would certainly recommend the Frontier or Summit to anyone looking for a Hocking Hills stay. The Summit would be a perfect location for a family gathering or special event and I am really looking forward to planning another stay with family and friends.
Reviews are the subjective opinions of Hocking Hills visitors and not of HockingHills.com
Web Site:
www.cutabovecabins.com