Bourbon Ridge Lodge
Bourbon Ridge Lodge

Logan, Ohio 43138

Phone: 800-836-9279, 80-836-9279

Web Site:

www.bourbonridgeretreat.com

Property Overview

The Perfect Ohio Getaway! Choose Bourbon Ridge for your next Hocking Hills cabin rental for all the luxury you expect in a high-end vacation destination. Our lodge is located within 15 minutes of Ohio's Hocking Hills State Park, making it ideal for romantic weekend getaways, extended family reunions, corporate retreats and even small intimate weddings. Newly opened in June of 2015, are two deluxe cabin rentals, The Woodford and The Bookers cabins. You can also choose the Makers Lodge, which can sleep up to 24 guests. If you're looking for a Hocking Hills family vacation where you can enjoy the great outdoors without having to worry about any of the details, look no further than Bourbon Ridge Retreat. We are proud to offer the best luxury cabin and lodge experience in Hocking Hills. Luxury Lodging is what we do best! From picturesque state parks to thrilling zip lines to authentic barbecue, we know first-hand which businesses are reputable and where to go for a memorable adventure. If you would like to explore beyond our property which offers over 5 miles of groomed hiking trails, however, our services and recommendations will help you fully take advantage of what makes the Hocking Hills such a special travel destination. Whether youre staying in a cabin rental for an extended weekend or planning a longer trip, we invite you to come and experience everything the Hocking Hills has to offer!



Accommodations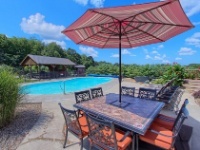 Makers Lodge 24 guests
- First Class Luxury, Total Privacy, Incredible Views, Large Pool, Authentic Firebrick Oven, 16 person Hot Tub,202 private acres and more You will find that Bourbon Ridge strives to offer THE BEST VIEWS,THE BEST AMENITIES for THE BEST POSSIBLE EXPERIENCE.
Maximum Occupancy: 24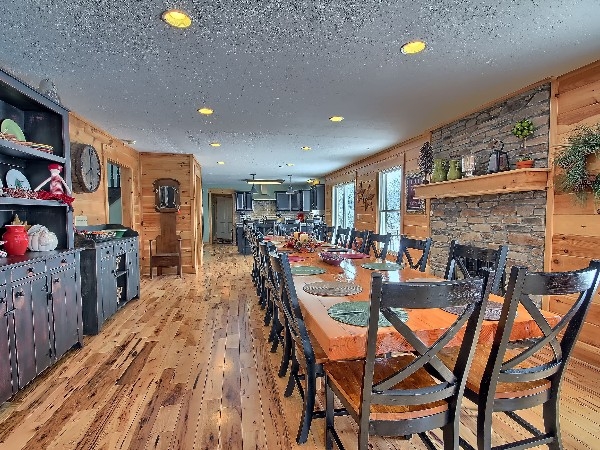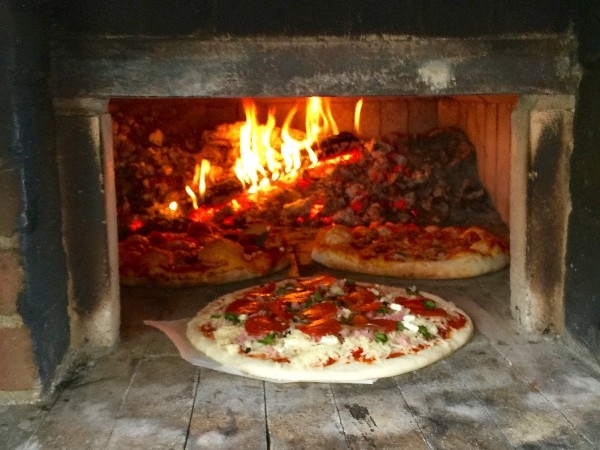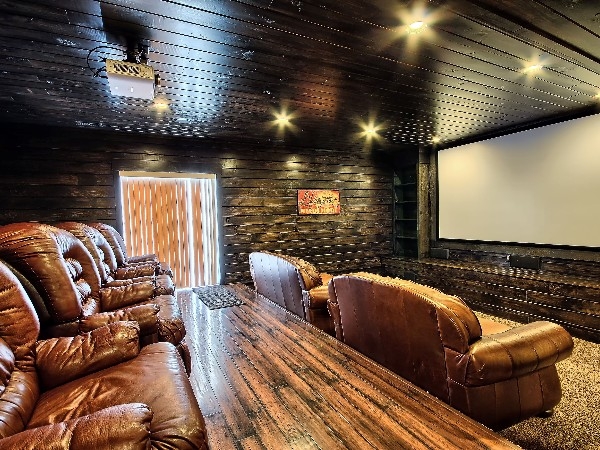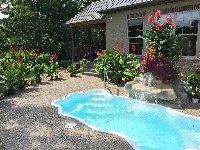 The Woodford Cabin 4 guests
- Situated on a 1.5 acre pond, The Woodford cabin is Hocking Hills Newest and most beautiful vacation rental yet.The Woodford will leave nothing to be desired for that perfect romantic couples retreat or small family vacation.
Maximum Occupancy: 4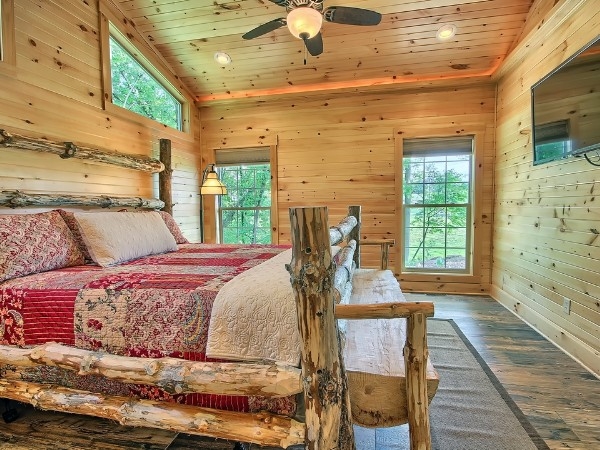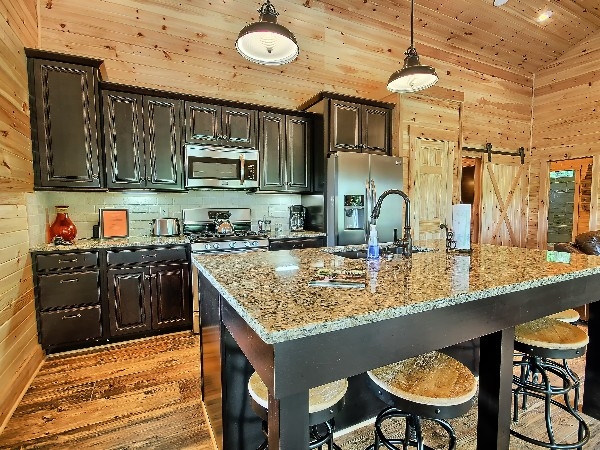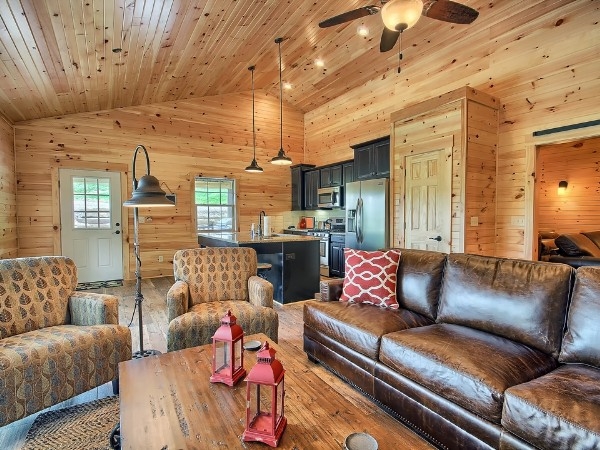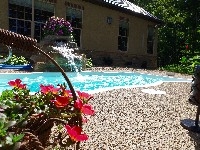 The Bookers Cabin 4 guests
- Nested in dense forest, The Bookers cabin will reign supreme to its competition.The Bookers will leave nothing to be desired for a romantic couples retreat or small family vacation.
Maximum Occupancy: 4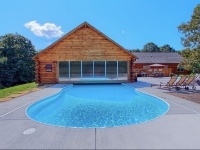 The Ridgemont Lodge 16 guests
- Opening February 2018 16 guests occupancy 10 guests if all adults. Indoor/Outdoor Zero Entry Heated Pool, Open 365 days per year and much more
Maximum Occupancy: 16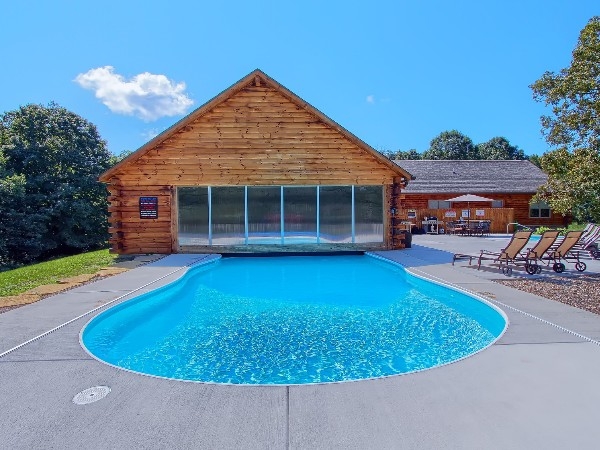 Angel's Envy 24 Guests
- The NEWEST 24 person Lodge at Bourbon Ridge Retreat opening in 2018. Zero Entry Indoor/Outdoor Heated Swimming Pool Open 365 Days a Year. Custom Designed Theater Room and Game Room and much more
Maximum Occupancy: 1
Combined Featured Amenites
(The most commonly requested Hocking Hills amenities are listed in bold)
•

Hot Tub


•

Wood Burning Fireplace


• Gas Log Fireplace
• Wood Burning Stove
•

Big Screen TV


• Cable Television
• Satelite Television
• DVD Player
•

Fire Ring


•

Air Conditioning


• Fishing On Site
• Swimming Lake/Pond On Site
•

Swimming Pool


• Pool Table
• High Speed Internet Access

• 1 Bedroom
• 5+ Bedrooms
•

King Bed


•

Queen Bed


• Bunk Bed
• Sofabed / Foldaway
• Shower Only
• 1 Bath
• 4+ Baths
• Gas Grill
•

Wedding Facilities



•

Suited for Children


• Laundry Facility
• Iron / Ironing Board
•

No Smoking Inside


• Telephone
• Television
• Stereo System
• Board Games
• Movies
•

Game Room



Visitor Reviews
Rating

5 out of 5

Everything you need

Review Posted:

Jun 19

Date of Visit:

April

We had a staff retreat at the Lodge and it was fabulous! The goal of the time was to be personally refreshed and enjoy being together. The Lodge assisted in both of those goals being met. We loved the pool, hot tub, and recreation room with pool and a movie theatre. We enjoyed short walks on the secluded trails around the lodge. We had everything we needed in the kitchen, bathrooms and bedrooms, and the large dining area and sitting area fit all 20 of with space to still be comfortable. Working with Christina on our reservation was a joy and she was incredibly accommodating and prompt in her communication. We will definitely book again if the opportunity presents itself.
Rating

5 out of 5

Great time

Review Posted:

Jun 19

Date of Visit:

January

We had a wonderful staff bonding retreat at the lodge. Everything was beautiful and well maintained. We were grateful for a space to rest and recharge while also connecting with one another. We hope to return for another staff event in the future! Thanks so much.
Rating

5 out of 5

Smith Wedding

Review Posted:

May 30

Date of Visit:

May

Our stay at the Bourbon Ridge Retreat ( Maker's Lodge ) could not have been more perfect. The owners were very helpful along the way and also when we arrived.The house and grounds of the property are absolutely stunning from the trails to the pool everything was amazing. We LOVED the brick oven they offered for pizzas they were delicious. The house was very well kept and clean and the pool & hot tub area was as well. The new suspension bridge was a big hit with everyone especially the kids! We were married on May 27th 2017 at the pergola out front and it couldn't have been more beautiful. I would highly recommend the Maker's Lodge for any families looking for a fun place to stay while at Hocking Hill's or just to get away for a vacation!!
Rating

5 out of 5

Wedding Delight

Review Posted:

May 22

Date of Visit:

May

Bourbon Ridge Retreat was the perfect place to have our intimate wedding with friends and family. It easily accommodated the 16 people we had attend our weekend. Spacious and roomy, we were never on top of each other, even when the weather wasn't cooperating. The house was beautiful and spotlessly clean! The 14 person hot tub was a popular place for all of our guests to relax throughout the day and night. Christina and Matt were such gracious hosts, we felt like they were part of our family. They were very responsive to any questions or requests we had during our stay. The kitchen and dining areas were amazing. Being able to seat all our guests for dinner was very important to us and the full length, custom wood table was more than enough for all 16 of us! The dining and living area was a great gathering place for our guests to celebrate our special day. We will gladly come back again in the future! Highly recommend to anyone looking to bring their family for a relaxing getaway or needing a place for a special day like we had.
Rating

5 out of 5

Beautiful place

Review Posted:

May 9

Date of Visit:

April

We stayed here for our 10 year anniversary and had a lovely time. The cabins are far up the driveway, keeping it secluded and unseen from the road. The landscaping is well taken care of and the interior of the cabin was clean, well maintained, and comfy cozy with dinner plates and wine glasses set out and ready for dinner. We spent some time in the evening resting in the hammock garden and later walking the trails on the property, seeing some deer and rabbit along the way. The pool/hot tub was a relaxing way to spend the evenings or there is the option of the gazebo over the pond. We were met at the door when we got there and were not bothered at all during the rest of our stay, but we were given their numbers in case we needed anything. It was about a 20 minute drive to Old Man's Cave and about 10 minutes from a Walmart and other shopping areas. We hope to come back for more anniversaries in the future.
Rating

5 out of 5

Bourbon Ridge Retreat

Review Posted:

May 3

Date of Visit:

January

Our weekend vacation was amazing. We were so relaxed and loved all the comforts that were there. Their attention to detail on every aspect, from the beauty of the house to the comfort of the beds and theater. The spa shower was wonderful. The management was so friendly and helpful, we felt right at home. We can't wait to go back.
Rating

5 out of 5

Bourbon Ridge Retreat

Review Posted:

May 2

Date of Visit:

April

I've had the pleasure of staying at Bourbon Ridge several times. The experience keeps getting better. Quiet, private, clean, plenty of amenities. Beautiful grounds, great first impression. We had 20 in the party and everyone was comfortable in the spacious rooms. Beds are super comfortable. Excellent customer service, second to none. Customer Service arrived at the front door our first day asking if we needed anything. They were always there to lend a helping hand. :) We built a fire in the fire pit, swam in the Jacuzzi and enjoyed the theatre room. Kitchen is fully stocked. We cooked all meals for three days, and we wanted for nothing. Great place! I recommend it to all of my friends. Can't wait for my next visit.
Rating

5 out of 5

Fabulous Weekend Retreat

Review Posted:

May 2

Date of Visit:

April

The accommodations and amenities at Bourbon Ridge are first-rate. The Lodge was beautifully appointed, with lovely furnishings and state-of-the-art appliances. The surrounding grounds were serene and made for a very relaxing weekend. I hope to return again soon!
Rating

5 out of 5

What a fantastic stay we had!

Cathy Percha,

Flat Rock, Mi

Review Posted:

May 1

Date of Visit:

April

We stayed four nights in April while our children were on spring break. We all had a great time & enjoyed how close everything was from Bourbon Ridge. The inside of our cabin was beautiful. All of the knotty pine & huge windows let in so much sunshine it was wonderful. We took serveral hikes around the property & my children loved finding the teepee that someone had build out of branches out in the woods. The also enjoyed the suspension bridge. We were also able to see deer right outside our door in the morning. We also saw deer in the evening after coming back from town. We will definitely be returning! My children love the pool/hot tube also. It was clean & the temperature was perfect. Have a fire & going in the hot tube was something we all looked forward to every night. It really was the perfect place for our family to stay.
Rating

5 out of 5

Relaxing

Review Posted:

Apr 25

Date of Visit:

March

Very nice place that adds a lot of personal touches. This is a very nice property that is perfect for a romantic get away. The pictures really do not even do it justice. The pool/hot tub combo is wonderful and although it was a bit chilly and we had some rain, it was definitely still the place to be. The shower is wonderful and the beds very comfortable. We didn't get a chance to check out the trails on the property due to the weather but something to go back for. Only 1 small issue we had was regarding privacy as we had a random vehicle drive up to the cabin and turn around which startled us as we were pretty far back in the property.
Rating

5 out of 5

Sales Retreat

Review Posted:

Apr 18

Date of Visit:

January

We stayed here for 3 nights for a Sales Retreat for our company. The cabin is beautiful and very spacious. We were able to designate certain areas as "professional" space and knew the other areas were for fun in the evenings! I would highly recommend this for family reunions, small corporate groups or a getaway with friends. I hope to take my own family back!
Rating

5 out of 5

Amazing Stay!

Review Posted:

Apr 11

Date of Visit:

April

I book retreats at Hocking Hills locations 4-6 times per year and this venue is EASILY the nicest place we've booked to date. Not only is everything laid out and each detail thoughtful but the customer service is outstanding. The owners really understand the needs of those staying and take all arrangements to ensure it's the BEST stay for you and your group. I'll definitely be booking again.
Rating

5 out of 5

Great place!

Review Posted:

Apr 11

Date of Visit:

March

Bourbon Ridge Retreat was beautiful, spacious and fun! We already want to return!
Rating

5 out of 5

5 Stars is not enough to describe this place!!

jmackey474,

Cleveland, Ohio

Review Posted:

Apr 5

Date of Visit:

March

Bourbon Ridge was beyond AMAZING!! We went there a few weeks ago with several other families and it had everything we could have wanted for both adults and all the kids! From the chef's ready kitchen and wood burning oven to the hot tub (unfortunately weather and time of year didn't permit us to use the pool) to the theater and game room spaces...there was never a time when anyone couldn't find something to do. The lodge's floorplan was so spacious and well thought out that even with 23 people we were never falling over each other and never got in each other's way! (that's impressive!) We were able to spend time with family and kids together going for hikes on the properties many trails, hanging out in the hammock garden, playing soccer and basketball in the yard (kids even enjoyed just rolling down the big grassy hill in the front!), spent time in the hot tub, and had a great time wrapping up the evening roasting marshmallows at the fire pit for s'mores. Not only was there tons to do at the property...but the location was perfect! We were able to take quick easy drives to both Old Man's Cave and Ash Cave for some hiking with the kids as well! Once kids were asleep....the set up of the lodge was so nice that adults could stay up talking, watching movies in the theater, and playing cards at the game table and never worry about waking up the little ones! Perfect layout in the lodge...lots of little conversation areas for people to gather and all the creature comforts we could have asked for! We had a wonderful time and are already trying to coordinate weekends to go back again this fall! If I could give Bourbon Ridge Retreat more than 5 stars I would....5 stars just doesn't describe how amazing this place is! Perhaps the best praise I can give is this....my husband was a chef and when we go somewhere and he's impressed with the ammenities (especially in the kitchen and the wood burning pizza oven) I know it's a special place for sure!
Rating

5 out of 5

Bourbon Ridge is AMAZING!

Review Posted:

Mar 30

Date of Visit:

March

We just returned from a 3 night/4 day stay at Bourbon Ridge Retreat and I cannot even begin to express how impressed we were with the property. The pictures on their site actually do not do it justice -- in person, it is even more beautiful. We had 23 people, 12 adults and 11 children, and we had PLENTY of room. The kitchen table was large enough for all of us to sit down to eat. You can tell that every detail has been considered -- blankets in the basement near the stadium style seating with a large projection screen, the art work, the kitchen appliances, lighter sticks for the fire, corn-hole boards for outside and cement blocks for placing the corn-hole boards on, Tupperware, plenty of silverware, multiple refrigerators, wine fridge, chest freezer, night lights -- I could go on and on. An extra nice touch was that the lodge was decorated for spring/Easter -- so cute! We are already talking about our next trip and we will definitely stay here again! You will not be disappointed if you stay here!!
Rating

5 out of 5

Amazing Weekend!

Review Posted:

Mar 30

Date of Visit:

March

I wasn't sure what to expect on our first trip with six families - including 11 kids under the age of 8 - in the same house for a three-night weekend getaway. I'm so happy to say that the entire weekend exceeded our expectations! Matt met us at the Lodge upon arrival and was so friendly and helpful at introducing us to the property. The Lodge is beautiful, clean, comfortable, and so well planned. They thought of everything! We enjoyed using the pizza oven and the kitchen and dining area are great for such a large group. We loved exploring the property, including the suspension bridge and hammock garden, and the movie theater was perfect when our kids needed a rest from all the fun. We had so much fun relaxing in the hot tub and around the bonfire at night. The location is great since it's close to many activities including the caves/parks, four-wheeling and zip lining. We were only a day in to our trip when people already started talking about next year... we'll be back!
Rating

5 out of 5

One of the Best!

Review Posted:

Mar 23

Date of Visit:

March

What an awesome, gorgeous, quiet, place to stay! One of the best. Every detail in the cabin was thought out. Love the theatre room and the awesome "spool."
Rating

5 out of 5

Best place possible!

Review Posted:

Mar 19

Date of Visit:

March

Bourbon Ridge is the full package! Everything about it is beautiful and top notch. The view/scenery is gorgeous! There is a great pool, large hot tub (size of a small pool), outdoor pizza oven, fire pit, shelter house, etc. The inside is just as nice with a movie theatre and game room. We have rented from the owners multiple times now and I can honestly say they give the best customer service I have ever experienced. We don't even look other places now. We have use other places they own too and they are just as nice.
Rating

5 out of 5

Great Stay at the Makers Lodge

Review Posted:

Feb 27

Date of Visit:

February

We had such a great time at the Bourbon Ridge Retreat Makers Lodge. There were activities available for everyone - including hiking, spending time in the hot tub, watching movies in the movie theater, and hanging out on the back patio with our wood-fire pizzas. We truly enjoyed every minute of our stay, and were impressed by all of the amenities available.
Rating

5 out of 5

Fantastic!

Review Posted:

Feb 10

Date of Visit:

February

The cabin we stayed at was fantastic, and the staff was extremely helpful prior to our arrival, as well as during our initial walk-through. We will DEFINITELY be going back to stay at the cabin, and hope to stay at the lodge sometime as well.
Rating

5 out of 5

Fantastic property

Review Posted:

Jan 23

Date of Visit:

January

Thanks to the owners of Bourbon Ridge for doing all they could to make our stay enjoyable. Our group of 24 benefited from everything from the comfortable furnishings to the beautiful property. A must is the giant hot tub and pizza oven. Would highly recommend.
Rating

5 out of 5

Woodford Cabin

Review Posted:

Jan 10

Date of Visit:

December

Amazing ! The cabin and amenities were fabulous . The year round outdoor pool/spa was beautiful as was the view of the pond and the outdoor fireplace . It was a very private and peaceful setting . The cabin was luxurious , yet cozy and warm . Everything was perfect. We have already recommended to friends and they have reserved it for February . We have stayed at many cottages , cabins and 5 star hotels - this is definitely a favorite ! We will be going back in the spring or summer.
Rating

5 out of 5

Great Lodge

Review Posted:

Dec 29

Date of Visit:

December

Our entire family of 16 stayed at the Makers Lodge, and there were beds for more if we wanted. It was amazing. The huge hot-tub, amazing theater, hiking trails, scenic view, and hospitality from the host all made for a wonderful time. The lodge was large, clean and everything felt new. The Wifi worked great. I can't think of a single thing we didn't like. We would rank this as our favorite lodge in which we've stayed.
Rating

5 out of 5

Totally awesome !!!!

Constance L. McKay,

Westerville

Review Posted:

Dec 15

Date of Visit:

December

Our family loved this lodge!!! The lodge was very clean and comfortable to just hang out and relax. The kitchen was well stocked with pans, dishes, utensils, etc. It made preparing food for our group a dream. We loved the table large enough for everyone to sit down at the same time. The theater room was the best!!! You even thought of family orientated board games. My personal favorite was the hammock garden. I tried it out even though it was a little cold seeing how it was December when we were there. Our family enjoyed the extra large hot tub. My daughter fell in love with the outside grill. There were plenty of clean towels and the bathrooms were plentiful, large and clean. The bedrooms are good size with plenty of sleeping spaces for a large family. Our family loved the lodge and plan on renting it again in the future! I would recommend this lode to anyone. Thank you for all the personal touches that make the lodge so comfortable. It did not take us very long to travel from Columbus to the lodge and our GPS worked very well getting us there.
Rating

5 out of 5

Beautiful, peaceful property and cabin

margiecolumbus,

columbus ohio

Review Posted:

Dec 13

Date of Visit:

November

We had a lovely time again over Thanksgiving weekend this year. The cabin is perfect for a family of 4. Beds a comfortable. Movie room is fun and cozy. Hot tub /pool is always a hit and we LOVE the outdoor fireplace for smores and staying warm by the fire. New hiking trails and hammock garden were perfect for us. Never even ventured out to the state hiking parks which was nice to avoid the crowds.
Rating

5 out of 5

Perfect Lodge and Cabins to Enjoy Hocking Hills

Review Posted:

Nov 30

Date of Visit:

November

My wife and I have been here twice (once was just the two of us in one of their cabins and again with 14 of our friends in their massive lodge), and we will definitely return in the future. The owners are as nice as can be, super accommodating, and totally understand how to treat their guests. The cabins and the lodge are of exceptional quality - amazing building materials, beautiful property, and very clean. Whether you're going in or out of season, the hot tubs are available so definitely plan on using them. If you're visiting the lodge, plan on making some pizza in their wood burning oven as well. We received a quick tutorial from the owners and we had the process perfected after the first pizza - delicious! The lodge and cabins are also very well stocked with cookware, plates, silverware, and all the other essentials. There's a Kroger about 20 minutes north, and the Old Man's Cave hiking trail is only about 20 minutes west. It's a perfect location to enjoy all the beauty of Hocking Hills!
Rating

5 out of 5

Perfect getaway!

Sandra,

Niagara Falls, NY, USA

Review Posted:

Nov 30

Date of Visit:

November

We stayed in the Bookers Cabin and it was perfect! Just as described and pictured on the website. We prepared all our meals at the cabin and really just brought our food/drink as everything else was provided for us. It seems funny calling it a cabin as it REALLY is a luxurious hideaway, so clean and beautiful. When we arrived, the Christmas tree was lit and soft music was playing on the satellite TV. What a wonderful welcoming! We were met by Kelly who explained all the necessities of the cabin and answered any questions that we may have had. We spent 3 nights and hiked the trails at Hocking Hills State Park. We definitely would love to visit again and would absolutely stay at Bourbon Ridge Retreat. Thank you Christina and Kelly!
Reviews are the subjective opinions of Hocking Hills visitors and not of HockingHills.com
Web Site:
www.bourbonridgeretreat.com