A Stone Cottage
A Stone Cottage

13540 Middlefork Road

Rockbridge, Ohio 43149-9663

Phone: 614-487-8909

Web Site:

www.hockinghills.com/astonecottage

Property Overview

Secluded cottage in picturesque Holiday Haven. Hot tub and fire pit overlooking beautiful wooded ravine. Swim, fish and boat in the nearby private lake. Close to Conkle's Hollow and Old Man's Cave


Category: Hocking Hills Cabins
Accommodations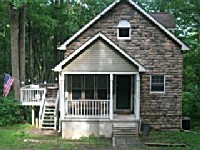 Stone Cottage
- Secluded cottage in picturesque Holiday Haven. Hot tub overlooking beautiful wooded ravine. Swim, fish and boat in the nearby private lake. Minutes from Rock House, Cantwell Cliffs, Old Man''s Cave, Conkle''s Hollow and Ash Cave
Maximum Occupancy: 6
Featured Amenites
(The most commonly requested Hocking Hills amenities are listed in bold)
•

Hot Tub


• Gas Log Fireplace
• DVD Player
•

Fire Ring


•

Air Conditioning



• 2 Bedrooms
• 1 Bath
• Gas Grill

•

Suited for Children


•

Pets Allowed


• Telephone
• Television
• Movies

Visitor Reviews
Rating

4 out of 5

Stone Cottage

Review Posted:

Feb 18

Date of Visit:

February

Great attention to detail with respect to the amenities in the cabin. Owner did call and notify us that the propane tank was empty and the fireplace would not function. The hot tub cover has seen some wear and tear. Difficult for one person to open and close. Very private setting.
Rating

4 out of 5

Loved it!

Review Posted:

Sep 23

Date of Visit:

September

We just got back from our weekend at a stone cottage and we loved it. It is very clean and seemed to be relatively new in construction. It has some really great amenities, with a full kitchen, plenty of room, two large decks and a very large hot tub. Being pet friendly we took our Great Dane and he loved it and spent most of the time sitting in front of the fireplace. There is no cell reception there so you are truly cut off from everyday distractions. The sights are roughly a 25 minute drive but through some pretty scenic areas. Overall we recommend it highly!
Rating

5 out of 5

Do I have to leave?

My Sisters and I,

Ft. Wayne IN and Maumee OH

Review Posted:

Oct 13

Date of Visit:

September

A Stone Cottage is a fantastic getaway spot. This cottage was even better than I expected. What a great place to relax, sit by the campfire, eat wonderful meals, relax in the hot tub, watch a movie or two. You can also play the George Game while you are here! My stay was comfy and cozy, quiet and relaxing, and overall, just a ton of fun was had by all. I really had a hard time leaving. Thanks to the owners for putting so much thought into making our stay a wonderful experience. You thought of everything. I will be back, you can count on that.
Rating

4 out of 5

A Stone Cottage

Review Posted:

Sep 23

Date of Visit:

September

I just returned home from Hocking Hills. My stay was at A Stone Cottage. We had a wonderful family weekend at the cottage. We had a little trouble finding the cottage because we could not find lot 50, but the sign "A stone Cottage" was at the driveway. While at the cottage we spent lots of time just relaxing on the decks while eating our meals together. Many hours by the campfire-plenty of wood on the trails. A stone Cottage has all the conforts of home-without all the interuptions of cell phones or computers. We were able to spend time playing games, talking, and cooking together. George game was our favorite. I will tell other people obout our weekend away at A stone Cottage and how blessed we felt to spend time together! The cottage is stocked with about everything you need. Including Games, movies, books, spices, hot chocolate, coffee, towels, shampoo, conditioner. All the comforts of home. We loved it!
Rating

4 out of 5

Fantastic Getaway!

ibecruiser,

Santiago, Chile

Review Posted:

Mar 27

Date of Visit:

March

This cottage is beautifully appointed, well located and serene. Owners have thought of everything.
Rating

4 out of 5

Seclusion with all the extras!

Review Posted:

May 17

Date of Visit:

May

Loved the spacious cabin. The property was secluded, peaceful, beautiful. Enjoyed mushrooming in the woods. The multiple levels would be great with kids! Coffee, hot chocolate and little extras were great. Thank You
Rating

5 out of 5

Amazing!

Crystal M.,

Wyandotte, MI 48192

Review Posted:

Apr 23

Date of Visit:

April

We loved stone cottage. It felt like home but minus my clutter;) Great movie selection. Hot tub was fabuluos after hiking all day. Just sitting on the porch was great. Close to everything and lake was awesome. Bob and Amy are so nice and I can't wait to come back next year:) I you are staying in the hocking hills then this is the place you want;) I will recommend the stone cottage to all my friends and family.
Rating

5 out of 5

Review Posted:

Jun 1

Date of Visit:

May

We didn't want this day to come because we must pack up and go back to the real world. This was our second time here and we will return and recommend A Stone Cottage to our friends. As always thanks for your time and investment into your cabin you are bringing so much enjoyment into many peoples lives.
Rating

5 out of 5

Review Posted:

Oct 1

Date of Visit:

September

We have stayed at quite a few cabins in the area. I was pleasantly surprised to find so many supplies here at The Cottage. It really makes you feel at home. I particularly like the seclusion. Thank you for having us. We plan to return.
Reviews are the subjective opinions of Hocking Hills visitors and not of HockingHills.com
Web Site:
www.hockinghills.com/astonecottage