Labor Day Train Ride
Sep 5, 2016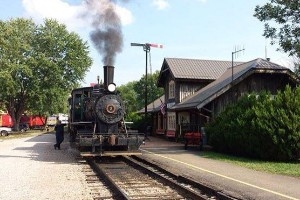 1-2:45pm.
Enjoy a relaxing, narrated train ride with the family round trip to East Logan and return. View the remaining historic sites along the scenic Hocking River Valley, as well as the current industry such as gravel mining and lumber processing.
The train departs the Nelsonville Depot for a round trip ride along the historic Hocking River Valley. Along the way, we will pass through the historic company town of Haydenville, which was the last company town in Ohio. It was once part of a large brick and clay company known in its later days as NATCO.
Other sights along the trip include one of the remaining Hocking Canal locks, an active gravel mine, and the Hocking River.
Tickets:
Adult - $17
Child - $12
Senior - $15
Cost: $12-17 per person
Contact
33 W. Canal Street
Nelsonville, Ohio 45764
Phone: 740-249-1452
Interest Tags
Outdoor Activity, Family Oriented, Special Interest, Arts/Music/Film, Historical,
Additional Events
Nearby Activities and Attractions