Primeval Crane Hollow Hike
Sep 17, 2016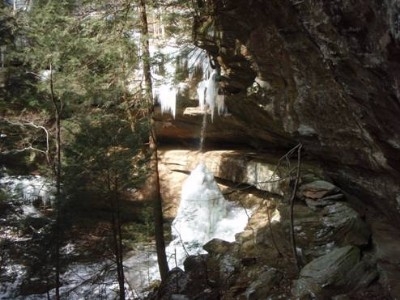 11:15am meeting time. 12:00pm Hike begins at Crane Hollow.
Instructor and Guide is Homer Elliott.
Descending into Crane Hollow feels like a trip back in time to primeval Ohio. Nestled in the Hocking Hills, the privately owned Crane Hollow Nature Preserve encompasses over 1,940 acres with nearly 1,300 of them protected as a state nature preserve with the blessing of a past governor and the Ohio Department of Natural Resources. The preserve boasts rugged vertical cliffs, seasonal waterfalls, reentrant recessed caves, towering hemlocks, and deep, dark ravines that host rare plants and wildlife, even a few listed species. The preserve is celebrating its documentation of 10,000 species this year. The mission of the Crane Hollow Preserve is to protect its fragile ecosystem, so human activity is limited and it is without an organized trail system. You can only visit and see the unique diversity with special permission, so join us for this privileged opportunity of a Crane Hollow Hike with a naturalist. Some sections of the hike may be steep or moderately strenuous, or over rugged terrain with loose rocks so make sure to wear sturdy hiking shoes. Pants are recommended. Bring plenty of water, though there will be an opportunity to fill your water bottles. This is a rare opportunity to see a protected and beautiful landscape.
About the hike: Shuttle service will be provided from Hocking College to the Crane Hollow Preserve in Laurel Township. Wea?Tll meet in the parking lot across from the Natural Resources Building towards the western end of the campus off the Hocking Parkway, not far from where the Parkway crosses the railroad on campus. The shuttle will arrive at the parking area at about 11:15 am and depart for Crane Hollow by 11:30 am. Wea?Tll arrive at Crane Hollow at about 12 pm. Facilities and a chance to fill up water bottles will be available at Hocking and upon arrival. Wea?Tll hike after a short introduction for 3 to four hours, and return to Hocking between 3:30 and 4:30 pm. Shuttle service will be available for the first 15 to register, but carpooling can be available for up to a total of 20 participants. It will be a day of adventure!
*9/6/2016 - 2:43 PM The shuttle is now full. We will meet at Hocking College at 11:15am. Those who are driving can follow the shuttle from Hocking College to Crane Hollow.
About the Instructor: Homer Elliott teaches in Hocking Colleges School of Natural Resources. He is a naturalist, botanist and ecologist and is a Certified Interpretive Guide. Appalachia is home, but he has also lived in and studied the forests of Pennsylvania and Vermont. While in the Green Mountains, he gained his masters degree in natural resources. Back in Appalachia, he recently spent time as an AmeriCorps in the Sunday Creek Watershed. When he is not in the lab or classroom, he is out in the woods. Passions include hiking, photographing wildflowers and wildlife, and foraging for wild mushrooms.
Cost: $20.00
Contact
3301 Hocking Parkway
Nelsonville, Ohio 45764
Phone: 740-753-7132
Interest Tags
Outdoor Activity, Family Oriented, Special Interest, Wildlife,
Additional Events
Nearby Activities and Attractions