An Ohio Childhood Exhibition
Sep 10 (Sat) thru Dec 31 (Sat)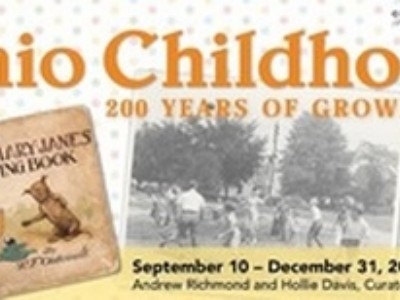 10am - 4pm Tuesday-Saturday
1-4pm Sun
Susan Talbot-Stanaway, Curator
Sponsored by: PNC Arts Alive
An Ohio Childhood will be a novel presentation of Ohio history that speaks directly to children and adults, using works of art, vintage photographs, decorative arts and innovative computer/Internet technology. All of the paintings, sculptures, photographs, historic clothing, toys and furniture will have been made/developed in Ohio between 1840 and today. Parents, teachers and other adults will be able to share memories and experiences.
Interactive materials and iPads in the galleries will engage visitors and will help them discover faces, pets, family members and stories, both different from and similar to their own. Major Ohio museums, historical societies, libraries and individual collectors are loaning remarkable examples of Ohio history to this very special exhibition.
Visit DACOa?Ts website and Facebook page for changing discussion, as well as images, text and activities including vintage coloring book pages to print and color.
Cost: Free Event
Contact
145 East Main Street
Lancaster, Ohio 43130-3713
Phone: 740-681-1423
Interest Tags
Family Oriented, Special Interest, Arts/Music/Film, Historical,
Additional Events
Nearby Activities and Attractions