Painted Barn Quilt Squares with Suzi Parron
Oct 27, 2016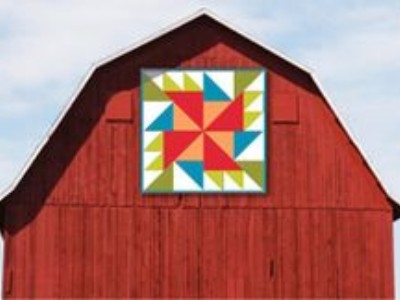 10am - 2:30pm. (half hour intermission for lunch)
Suzi Parron is an expert on barn quilts and will lead two workshops on making barn quilt squares.
The summer of 2017 will mark the 20th biennial of Quilt National, and we want to celebrate all over town by covering the City of Athens with Quilts.
An individual project can also be for people interested in working on one quilt square as a team, one more adult may be added to a project (for a total of 2 adults) for an additional class only fee of $15.00. Up to two children age 12 and under may be added to a single project with an adult free of charge.
This workshop begins with a pre-primed board and goes through each step - drafting, taping, and painting, with careful attention to detail. The workshop lasts about 4 hours. You will leave with a finished quilt block or with one last color (which will be provided) to add at home. The finished product will be 2 X 2 and is the perfect size for mounting on smaller buildings.
Supplies provided are Pre-primed 2 by 2 board. The priming is a two-day job, which is already done for you. Suggested patterns ready to transfer (you may bring your own, but keep it simple - and be ready to draw it onto the board). Paint. Foam brushes. Colored pencils and other tools. Painters Tape.
Supplies to bring - Please consider bringing a hair dryer to speed the drying time between coasts of paint on your barn quilt.
Cost: $70-75 per project
Contact
8000 Dairy Lane
Athens, Ohio 45701-9393
Phone: 740-592-4981
Interest Tags
Family Oriented, Special Interest, Arts/Music/Film, Historical,
Additional Events
Nearby Activities and Attractions