Newark Strawberry Festival
Jun 2, Jun 3, Jun 4, 2017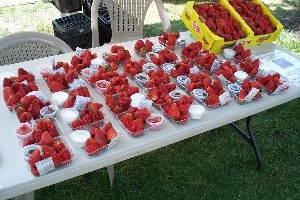 11am-10pm Fri/Sat, 11am-6pm Sun.
This festival has become a tradition to the citizens of Newark and surrounding areas. Many wait patiently all year long for this festival, which brings so much fun and excitement to Newark. Rides games, crafts, food, and entertainment provide the entire family with many exciting things to do, see, and taste.
Each year, everyone anticipates the return of one of the world's most-craved delicacies --Strawberry Shortcakes made famous by the Newark Kiwanis Club and served with creamy Velvet Ice Cream, made locally.
Cost: Free Event
Contact
5 South 3rd Street
Newark , Ohio 43055
Phone: 740-983-4797
Interest Tags
Outdoor Activity, Family Oriented, Special Interest, Arts/Music/Film,