The Great Train Robbery - Or Be the Robber
Jul 7, Jul 8, Jul 9, Jul 10, 2016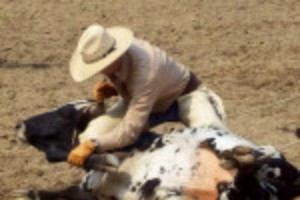 Come help us rob the train.
Be here on Thursday to begin rehearsal and practice some mounted shooting. Train Robbery will take place on Saturday.
Afterward, join us at the Clubhouse for a simple dinner, campfire, and a great time.
Cost to Ride:
$85 with your own horse (1st or 2nd time)
$40 with your own horse (veteran riders)
$260 with a rented ranch horse.
Contact us to join the Posse.
Not comfortable with riding but still want to participate? Ride the train. Contact Hocking Valley Scenic Railway at 740-753-9531 to ride the train.
Additional train robbery dates are July 9th and August 6th.
Cost: $40-$260 per person
Contact
6751 Hunterdon Rd
Glouster, Ohio 45732
Phone: 740-767-2624
Interest Tags
Outdoor Activity, Family Oriented, Special Interest, Wildlife,
Additional Events